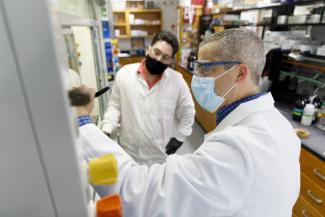 Eric Ferreira's own early fascination with solving puzzles helps him inspire students to piece together the logic behind organic chemistry.
"I was always interested in logic puzzles and things of that nature that as a kid," said Ferreira, an associate professor in the Franklin College of Arts and Sciences' chemistry department. "As a sophomore in college, my first semester organic chemistry professor really illustrated the logic behind it, and it made perfect sense to me."
Organic chemistry is often viewed as a daunting prospect, yet it is a vital component in understanding and relating to a number of fields and disciplines. Some have compared mastery of organic chemistry to learning a foreign language, while others liken it to putting together musical notes and concepts to create a symphony. Dr. Ferreira draws on his own experience in both the classroom and in research to make organic chemistry come alive for his students and to teach them the logic and problem-solving skills that the discipline requires.
To learn more about Dr. Ferreira's research and his approach to teaching organic chemistry, read the full article in UGA Today.