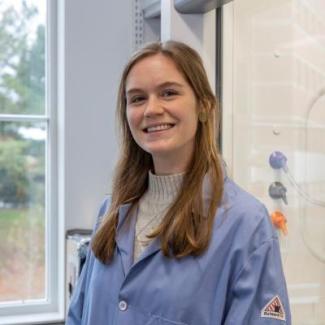 Graduate Student, Department of Chemistry
University of Georgia
iSTEM-2 Building, Room 1218
Photoredox catalysis has emerged as an integral fraction of modern organic methodology.[1] Since the early 2000's there has been a renewed interest in photochemistry, with photoredox catalysis utilizing visible light becoming a rapidly expanding field. Various transition-metal complexes have been developed and proven efficient photocatalysts; however, the two most commonly employed metals in these systems are the incredibly expensive, rare-earth metals iridium and ruthenium. Previously, the Ferreira lab has indicated the promise of Cr(III)-polypyridyl complexes to perform as effective photooxidants in the presence of visible light.[2]
Our recent work describes a direct dearomative Cr(III) photocatalyzed (3+2) cycloaddition between indoles and vinyldiazo reagents.[3] The desired cycloaddition product is obtainable in high yields, with exclusive regioselectivity. This reaction is enabled by a newly developed Cr(III) photocatalyst, with the enhanced reactivity in the reaction directly attributed to a bathochromic shift in the catalyst, allowing for stronger absorption of the catalyst in the presence of visible light. The novel Cr(III) photocatalyst considerably out-performs our previously reported Cr(III) photocatalyst and has greater stability to reaction conditions than commonly used Ru(II) photocatalysts.

---
[1] Prier, C. K.; Rankic, D. A.; MacMillan, D. W. C.  Chem. Rev. 2013, 113, 5322-5363.  b) Narayanam, J. M. R.; Stephenson C. R. J.  Chem. Soc. Rev. 2011, 40, 102-113.  c) Yoon, T. P.  ACS Catal. 2013, 3, 895-902.
[2] a) Stevenson, S. M.; Shores, M. P.; Ferreira, E. M.  Angew.Chem. Int. Ed. 2015, 54, 6506-6510.  b) Sarabia, F. J.; Ferreira, E. M.  Org. Lett. 2017, 19, 2865-868.  c) Sarabia, F. J.; Li, Q.; Ferreira, E. M.  Angew. Chem. Int. Ed. 2018, 130, 11181-11185.
[3] Gall, B. K.ǂ; Smith, A. K.ǂ; Ferreira, E. M.  Angew. Chem. Int. Ed. 2022, 61, e202212187.