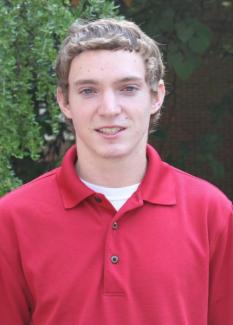 Graduate Student, Department of Chemistry
University of Georgia
Chemistry Building, Room 400
Strain-promoted azide-alkyne cycloaddition (SPAAC) has emerged as a popular click chemistry technique1. Over just the past few decades, a plethora of cycloalkyne SPAAC reagents have been developed for use as biorthogonal probes in cell and protein studies2-4, peptide stapling reagents5, and crosslinkers in polymers6. Most of these cycloalkyne reagents suffer from issues that hinder their utility; these being low aqueous solubility and slow reaction rates. Our goal is to synthesize a SPAAC reagent that has a higher water solubility and higher reaction rate than currently known SPAAC reagents. To that end, we have synthesized mono-cyclopropenone caged dibenzocyclooctyne triazole (MC-DIBOT-R) derivatives. These compounds offer increased water solubility over other cycloalkyne reagents. In addition, the alkyne moiety is protected by cyclopropenone, a photo-labile protecting group, that allows for spatio-temporal control over SPAAC initiation. We are also investigating the phenomenon of SPAAC rate enhancement in aqueous/organic solvent mixtures. With this compound, we find that the second-order rate constant of SPAAC grows exponentially with the water content of the solvent mixture and that the reaction rate difference between wholly organic and aqueous solutions could be above 30-fold.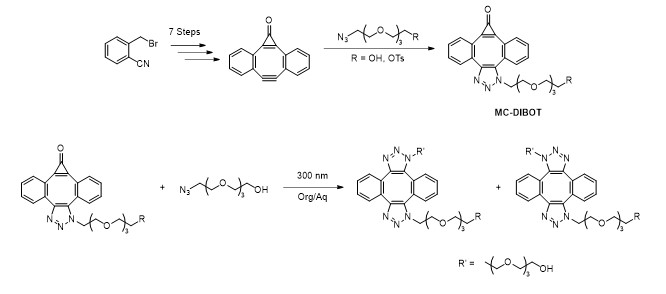 References:
1. Agard, N. J.; Prescher, J. A.; Bertozzi, C. R., Journal of the American Chemical Society 2004, 126 (46), 15046-15047.
2. Chen, J.-Q.; Xiang, L.; Liu, X.; Liu, X.; Zhang, K., Macromolecules 2017, 50 (15), 5790- 5797.
3. Sun, P.; Chen, J.; Liu, J. a.; Zhang, K., Macromolecules 2017, 50 (4), 1463-1472.
4. Sutton, D. A.; Yu, S.-H.; Steet, R.; Popik, V. V., Chemical Communications 2016, 52 (3), 553-556.
5. Kii, I.; Shiraishi, A.; Hiramatsu, T.; Matsushita, T.; Uekusa, H.; Yoshida, S.; Yamamoto, M.; Kudo, A.; Hagiwara, M.; Hosoya, T., Organic & Biomolecular Chemistry 2010, 8 (18), 4051-4055.
6. Lau, Y. H.; Wu, Y.; Rossmann, M.; Tan, B. X.; de Andrade, P.; Tan, Y. S.; Verma, C.; McKenzie, G. J.; Venkitaraman, A. R.; Hyvönen, M.; Spring, D. R., Angewandte Chemie International Edition 2015, 54 (51), 15410-15413.