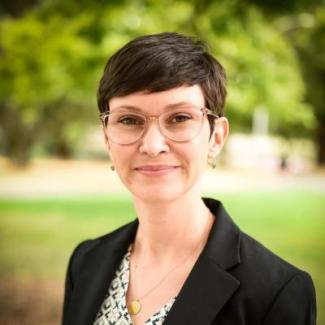 Dr. Kelly M. Hines, assistant professor in the Department of Chemistry, was recently featured as an "Emerging Investigator" by the Journal of the American Society for Mass Spectrometry (JASMS). According to the JASMS, "the goal of the Emerging Investigators Focus is to showcase some of the exciting independent work that is being performed by early career researchers who have already demonstrated their potential to make important contributions to their respective areas of research and have the potential to become future leaders within the field." The recognition is based on recommendations from prominent mass spectrometrists, including members of the Editorial Board of JASMS and the ASMS Board of Directors, as well as peer-reviewed articles by the researchers.
Dr. Hines graduate cum laude from the University of Florida, completed her Ph.D. in Chemistry at Vanderbilt University, and did post-doctoral work in the Mayo Clinic Regional Metabolomics Core and the University of Washington School of Pharmacy. She joined the faculty of the UGA Department of Chemistry in 2019, where her lab is developing high-throughput IM-MS methods to study human health concerns at the molecular level.
Read the full JASMS article, as well as a follow-up article containing an interview with Dr. Hines.