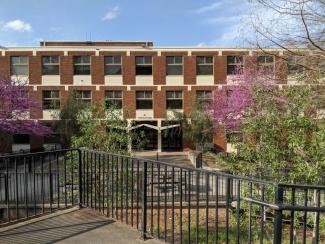 On Friday, April 15, the Department of Chemistry will host its annual Alumni Event, which had been on hiatus since 2020 due to COVID-19 concerns. The event begin with the Alumni Lecture at 4:00 p.m. in Room 400 of the Chemistry building, with Prof. Jason Locklin of the UGA New Materials Institute as the featured speaker.
Following the lecture, there will be a social hour at 6:00 p.m. and banquet at 7:00 p.m. at the Georgia Center. During the banquet, the Chemistry Department will honor Distinguished Alumni Award winners Dr. Louis Renbaum and Dr. Tyler Curiel. The department and the local chapter of the American Chemical Society will also present awards for teaching, research, and outstanding undergraduate and graduate students. 
All Department of Chemistry alumni are invited, as well as faculty, staff, research professionals, current graduate students, and junior/senior undergraduate Chemistry majors. To make a reservation, contact Donna Spotts at donna.spotts@uga.edu or (706)-542-1919. The deadline for reservations is Friday, April 8, 2022.