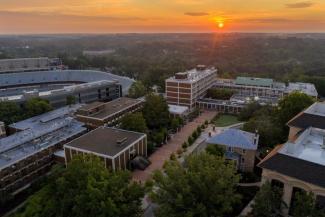 The University of Georgia Department of Chemistry recently presented a number of awards to outstanding undergraduate students. The awards were announced as part of the department's commencement event for Spring 2021. Among the students receiving departmental awards were:
Alfred W. Scott, Sr. Award for Most Outstanding Rising Senior in ACS degree program: Lucy Liu, nominated by Dr. Kelly Hines.

L. B. "Buck" Rodgers Award for Most Outstanding Undergraduate Researcher: Conner Blais, nominated by Dr. Michael Duncan.

Pamela Ann Henkel Award for Most Outstanding Organic Chemistry Student: Elizabeth Winders, nominated by Dr. Rupa Gokal.

SPARK Award for Undergraduate Chemistry Research: Constance Sullivan, for Pharmacokinetics of trisubstituted hydroxylamines (Crich lab), and Lucy Liu, for Quantification of surfactants by colorimetry (Frossard lab).
In addition, the Northeast Georgia Section of the American Chemical Society named Conner Blais, Jessica Budwitz, Ariana Deegan, and Jackson Wysocki as Outstanding Undergraduate Students for the 2020-2021 academic year.
Twenty-six Chemistry majors graduated with CHEM or BSCHEM (ACS Certified) degrees in Spring Commencement. Of these students, 15 received Latin honors (Cum Laude or higher). Most of the graduates are planning to go into research, to attend medical school, or to pursue a graduate degree. Congratulations to our outstanding Chemistry students!