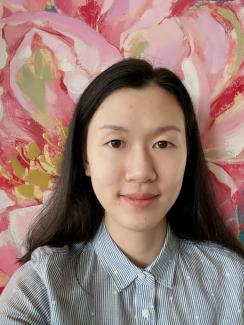 The Department of Chemistry welcomes Dr. Yifan Wang to the faculty as an Assistant Professor in Bioinorganic Chemistry. Dr. Wang obtained her BSc from Zhejiang Sci-Tech University (China) in 2015, and she spent Fall 2014 at the University of Liverpool (UK) as a visiting student. She then came to the States and joined Prof. Aimin Liu's research group as a PhD student. Starting at the Georgia State University in Fall 2015, Dr. Wang relocated to the University of Texas at San Antonio with the Liu Lab in 2016 and completed her PhD study there. During her study in San Antonio, she developed a keen interest in mechanistic enzymology, structural biology, and bioinorganic chemistry. Her research spans a wide range of subjects, covering heme and non-heme iron-dependent enzymes related to oxidative stress, amino acid metabolism, C–H/C-F bond cleavage, natural product biosynthesis, and protein cofactor biogenesis.
The Wang lab will study oxygen activation and C–H/C–C bond functionalization by metalloenzymes. To harness the oxidizing power of oxygen and manipulate biomolecules, iron-containing enzymes are frequently employed by aerobic organisms. Heme and non-heme iron-dependent oxygenases represent two of the most ubiquitous and potent natural catalysts, while the contribution of the ligand sets to oxygen activation and reaction outcome remains largely unknown due to the massive variations between heme and non-heme systems. The Wang lab aims to fill the knowledge gap through a comparative investigation of the biomedically essential oxygenases with specific ligand sets. Research in the Wang lab will leverage the understanding of iron-oxygen chemistry, inspire the design of biomimetic complexes and engineered biocatalysts, and advance the potential for biomedical treatments.
The Wang Lab is now recruiting. Students and postdocs interested in protein chemistry are welcome to contact Dr. Wang at wang.yifan@uga.edu to set up a visit. We look forward to working with Dr. Wang and to her contributions in both the lab and the classroom.