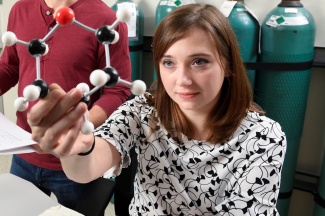 Anna Doner, a PhD student in the Department of Chemistry, is one of 78 graduate students nationwide selected for the Department of Energy's (DOE's) Office of Science Graduate Student Research (SCGSR) program fellowship. The program provides supplemental funds for students to conduct part of their thesis research at a host DOE laboratory in collaboration with a DOE laboratory scientist. Awardees were selected from a diverse pool of graduate applicants from institutions around the country, based on merit peer review by external scientific experts.
Ms. Doner is a graduate student in the Rotavera Group, under the supervision of Professor Brandon Rotavera. With the SCGSR Fellowship, Ms. Doner is working with Dr. Judit Zádor at the Combustion Research Facility at Sandia National Laboratories (Livermore, CA) on automated potential energy surface exploration of cyclic ether radical chemistry.
Congratulations to Ms. Doner for this prestigious award!