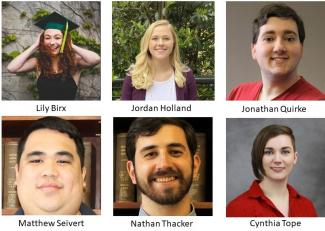 In a recent departmental event associated with UGA Commencement 2021, the Department of Chemistry announced its Graduate Student Awards for the 2020-2021 academic year:
In addition to the departmental awards, the Northeast Georgia Section of the American Chemical Society named UGA Chemistry Ph.D. students Lily Birx and Matthew Seivert as Outstanding Graduate Students in its 2021 awards.
The Department of Chemistry awarded 11 Ph.D. degrees and two Masters degrees in the Spring 2021 Graduate Commencement. Congratulations to these outstanding graduate students!