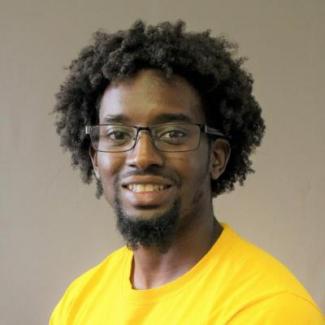 Christian Freeman, a Ph.D. candidate in Chemistry, is among seven University of Georgia doctoral students who were recently named 2021 ARCS Scholars by the Office of Research. Recipients of the faculty-nominated award, which is given to students pursuing degrees in science, engineering, and medical research who excel in science communication, will receive $8,000 each for the next three years to support their dissertation research.
Mr. Freeman, a student in the Hines Lab under the direction of Dr. Kelly M. Hines, is currently analyzing the phospholipids present in Staphylococcus aureus, a strain of bacteria known for growing in antibiotic-resistant infections each year. He hopes to bridge the connection between phospholipid composition, membrane fluidity, and membrane-active antibiotic activity.
In a recent article from UGA Research, Mr. Freeman commented: "Establishing the purpose of membrane fluidity in antibiotic resistance would shift the playing field for drug delivery in many existing treatments today," Freeman said. "Being a 2021 ARCS scholar will propel me forward into a new group of researchers who strive to better the world each day. Not only will I be able to dive deeper into external programs that require excess funding, I'll also be a part of a like-minded group of individuals in which I can grow and communicate to accomplish a better outlook for our future."
ARCS® Foundation is a nationally recognized nonprofit organization started and run entirely by women who boost American leadership and aid advancement in science and technology. To address the country's need for new scientists and engineers, they provide unrestricted funding to help the country's brightest PhD students create new knowledge and innovative technologies. UGA has been a designated nominating institution of the ARCS Foundation since 2000. To date, over 100 UGA students working in the sciences have received funding from the foundation totaling more than $2 million.