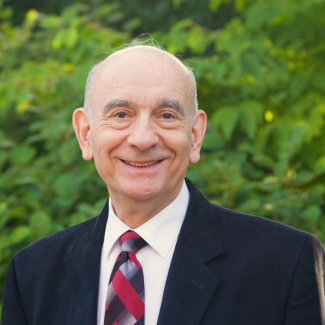 Prof. Charles R. Kutal, 75, of the UGA Chemistry Department passed away Friday, August 30, 2019 at his home in Athens.
Chuck was born August 9, 1944 in Chicago, IL to Charles George Kutal and Mildred David Kutal.  He married Judy Gombos in April 1974, and they celebrated their 45th wedding anniversary recently.
He graduated cum laude with a major in Chemistry from Knox College in 1965, and received his Ph.D. degree in Chemistry in 1970 from the University of Illinois. He then spent two years as a postdoctoral associate at the University of Southern California, when he met Judy, and one year as a National Research Council Associate at the Aerospace Research Laboratory, Wright-Patterson Air Force Base. He joined the faculty at UGA in 1973, appointed initially as an Instructor.
Kutal spent his entire professional career at UGA.  He served as department head for seven years, Associate Dean of the Franklin College of Arts and Sciences for 14 years, and was Founding Director of the UGA Office of STEM Education.  He authored over 100 publications dealing with the photochemistry of inorganic and organometallic compounds and co-edited three books.  He described his research in over 200 presentations.  His research was funded by several federal agencies (NSF, DOE, DOD), private foundations, and industry.  In recent years, his scholarship was focused on increasing and sustaining higher education faculty involvement in efforts to improve STEM education.  He served as co-PI on NSF education related grants funded for over $36 million. Recognition for his teaching include the Undergraduate Teaching Award of the Northeast Georgia Section of the American Chemical Society, the Lothar Tresp Outstanding Honors Professor Award from the UGA Honors Program, selection as a UGA Senior Teaching Fellow, and induction into the UGA Teaching Academy. In 2012, the Princeton Review named him as one of the 300 Best Professors in America.
He is survived by his wife: Judy Gombos Kutal; a sister: Mildred Shaver of Edwards, IL; nieces Laura and Anita and a nephew Johnny.
A memorial service to honor Chuck's life will be held on Friday October 4 at 4:00 pm in the UGA Chemistry Department.
In lieu of flowers, gifts to honor Chuck may be made to the UGA Foundation and designated for the "Judy and Charles Kutal Scholarship" and sent to:
UGA Foundation
Attn: Gift Accounting
394 S. Milledge Ave
Athens, GA 30602
On-line donations can be made here.