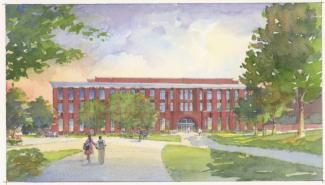 The Department of Chemistry is excited to announce the groundbreaking for our newest building, the Science, Technology, Engineering and Math Research Building, STEM-I.  The new building will house research teams from both the Chemistry Department and the Engineering College, and is strategically designed to facilitate collaboration between students, faculty, and researchers.
The $65 million facility is made possible by $39.4 million in state support. It will be located on UGA's South Campus near other buildings that house STEM researchers, and will promote interdisciplinary research to address the needs of industry and government agencies. It will also enhance the state of Georgia's economic development.  Dr. Eric Ferreira, an Associate Professor in Chemistry, said "The STEM-I Building is designed to strengthen research efforts in both chemistry and engineering at UGA.  Research groups with related and complementary expertise and skillsets will be located together in this building, where we'll be poised to respond quickly to future challenges in science and dynamic interactions will become more the norm.  It should become an exciting place for future scientific and technological developments."
STEM-I is Chemistry's first new research building in over 20 years, and will be the anchor of a new science quadrangle on the UGA campus.  Dr. Jon Amster, Head of the Department of Chemistry, observed that "The STEM-I building will provide an enormous improvement over our existing lab facilities.  It will empower our faculty to pursue new and innovative research programs that will deliver valuable benefits to business, healthcare, and government for decades to come." The facility will expand laboratories for chemistry, engineering and other material sciences, offer undergraduate research opportunities, and expose graduate students to projects with real-world relevance.
The ceremony will be held at the construction site off East Campus Road, just south of the intersection with Cedar Street.  Speakers will include:
Jere Morehead, UGA President

Alan Dorsey, Dean, Franklin College of Arts and Sciences

Dr. I. Jonathan Amster, Head of the Department of Chemistry

Don Leo, Dean, College of Engineering

Jitendra Pant, PhD Student in Biomedical Engineering

Caitlin Cato, PhD Student in Chemistry
Nathan Deal, Governor of the State of Georgia, is also tentatively planning to attend.