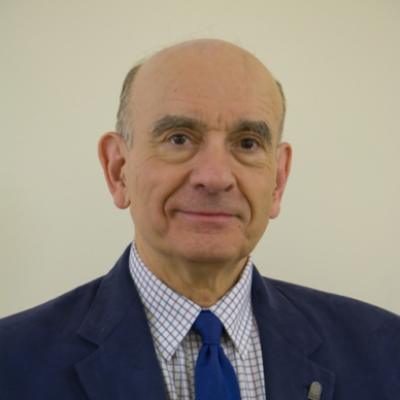 Other Affiliations
Education

Education:

Ph.D., University of Illinois, 1970
Research

Research Interests:

A primary objective in our research is the characterization of photochemical and photophysical processes available to transition metal complexes following excitation to an electronic excited state. In a very real sense, this excited state is a distinct chemical species whose energy, structure, and reactivity can differ appreciably from the corresponding properties of the ground state. These differences, in turn, can result in novel behavior that can be exploited in areas such as synthesis, catalysis, medicine and biology, optical imaging, pollution remediation, and the conversion and storage of photon energy. Current projects focus upon the physical and chemical events resulting from the electronic excitation of a transition metal compound in the presence of an organic substrate. Objectives of the research include:

delineation of the primary excited-state processes of the metal compound;
identification of the dominant interactions between the metal and the organic substrate;
characterization of the important photochemically generated intermediates;
exploration of novel photoinitiated and photocatalyzed systems.
Selected Publications

Selected Publications:

Kutal, C. R. (2016). Peer Learning Assistants for Introductory STEM Courses. In USG STEM Summit. Macon, GA.

Horne, A., Kutal, C., Elder, T., & Raczynski, K. (2011). Collaborative Endeavors to Strengthen Educator Preparation. In SRATE/GATE Conference. Savannah, Georgia: Southeast Region Assoc of Teacher Education.

Horne, A., Kutal, C., & Elder, T. (2011). Collaborative Endeavors to Strengthen Educator Preparation. In ICET World Assembly 2011. Glasgow, Scotland: University of Glasgow.

Kutal, C. (2011). An Effective Math/Science Partnership Between K12 and Higher Education in Georgia. In 241st National Meeting of the American Chemical Society. Anaheim, CA: American Chemical Society.

Kutal, C., Koballa, T., & Coleman, D. (2011). Exploring the Evidence for Riding on Nitrogen-Filled Tires. In Georgia Science Teachers Association Annual Conference. Atlanta, GA: Georgia Science Teachers Association.

Kutal, C., Coleman, D., & Vandergrift, N. (2010). Impact of the Math-Science Partnership Program on Science Instruction at the University of Georgia. In 2010 Southeast/Southwest Regional Meeting of the American Chemical Society. New Orleans, LA: American Chemical Society.

Kutal, C. (2010). How an MSP Project Improved Science Instruction at the University of Georgia. In 21st Biennial Conference on Chemical Education. University of North Texas, Denton, TX: American Chemical Society.

Kutal, C., Martin-Hansen, L., Ellett, C., Vandergrift, N., Awong-Taylor, J., & Demir, K. (2010). Transforming Higher Education Culture to Support Faculty Engagement in K-16 STEM Education Reform. In Math Science Partnership Learning Network. Washington, DC: National Science Foundation.

Kutal, C., & Vandergrift, N. (2009). Creating and Sustaining STEM K-16 Learning Communities: Avenues for Success. In West Central Georgia Regional STEM Institute. Columbus, Georgia: Partnership for Reform in Science and Mathematics.

Kutal, C., Coleman, D., & Vandergrift, N. (2009). Bridging the 9-12/Higher Education Gap in STEM Education. In Advanced Placement Annual Conference. San Antonio, Texas: College Board.

Kutal, C. (2009). Meeting the STEM Challenge: Involving Faculty and Administrators. In University System of Georgia STEM Initiative State Institute. Stone Mountain, GA: Partnership for Reform in Science and Mathematics (PRISM).

Kutal, C. R. (2009). Increasing the Competitive Edge in Math and Science. In J. S. Kettlewell, & R. J. Henry (Eds.). Rowman and Littlefield.

Kutal, C., Beardsley, L., Pomeroy, D., Shoemaker, B., & Zhang, X. (2009). Engaging Higher Education Faculty in K-16 STEM Education Reform. In Math Science Partnership Learning Network. Washington, DC: National Science Foundation.

Kutal, C., Morgan, M., & Sinclair, J. (2008). Electronic Spectroscopy and Photochemistry of Group 8 Metallocenes. In 235th National Meeting of American Chemical Society. New Orleans, LA: American Chemical Society.

Morgan, M., & Kutal, C. (2007). Photochemistry of [1]Ferrocenophanes: Evidence of Two Different Bond-Breaking Reaction Routes. In 59th Southeast Regional Meeting of American Chemical Society. Greenville, SC: American Chemical Society.

Sinclair, J., Subramanian, S., Johnson, M., & Kutal, C. (2007). Characterization of the Low-Energy Electronic Excited States of Benzoylosmocene. In 59th Southeast Regional Meeting of American Chemical Society. Greenville, SC: American Chemical Society.

Morgan, M., & Kutal, C. (2007). primary Photochemical Reactions of Silicon-Bridged [1]Ferrocenophanes. In 234th National meeting of American Chemical Society. Boston, MA: American Chemical Society.

Kutal, C., & Morgan, M. J. (2007). Quantitative photochemistry of ring opening polymerization in a silicon-bridged [1]ferrocenophane. Retrieved from http://gateway.webofknowledge.com/gateway/Gateway.cgi?GWVersion=2&SrcApp=PARTNER_APP&SrcAuth=LinksAMR&KeyUT=WOS:000207722805309&DestLinkType=FullRecord&DestApp=ALL_WOS&UsrCustomerID=bccb20a1f2d949998a887c45eb30dd98

Kutal, C., Kettlewell, J., & hessinger, S. (2007). Developing a Reward Structure for Higher Education Faculty Involvement in K-16 Science and Mathematics Teaching and Learning. In Math Science Partnership Learning Network. Washington, DC: National Science Foundation.

Kutal, C., Sanderson, C. T., Quinlan, J. A., Ding, W., Conover, R., Johnson, M. K., . . . Amster, I. J. (2004). Competing charge-transfer photoinitiation pathways of D-6 metallocenes.. ABSTRACTS OF PAPERS OF THE AMERICAN CHEMICAL SOCIETY, 227, U1428. Retrieved from http://gateway.webofknowledge.com/gateway/Gateway.cgi?GWVersion=2&SrcApp=PARTNER_APP&SrcAuth=LinksAMR&KeyUT=WOS:000223655604750&DestLinkType=FullRecord&DestApp=ALL_WOS&UsrCustomerID=bccb20a1f2d949998a887c45eb30dd98

Ding, W., Amster, I. J., & Kutal, C. (2003). On-Line Characterization of Short-Lived Photoproducts by Electrospray Ionization Mass Spectrometry. In M. Melnik, & A. Sirota (Eds.), Progress in Coordination and Bioinorganic Chemistry (pp. 233-238). Bratislava: Slovak Technical University Press.

Ding, W., Johnson, K. A., Kutal, C., & Amster, I. J. (2003). Mechanistic studies of photochemical reactions with millisecond time resolution by electrospray ionization mass spectrometry. ANALYTICAL CHEMISTRY, 75(17), 4624-4630. doi:10.1021/ac0264269

Ding, W., Sanderson, C. T., Conover, R. C., Johnson, M. K., Amster, I. J., & Kutal, C. (2003). Characterization of the low-energy electronic excited states of benzoyl-substituted ferrocenes. INORGANIC CHEMISTRY, 42(5), 1532-1537. doi:10.1021/ic020639z

Kutal, C., Yamaguchi, Y., Ding, W., Sanderson, C. T., Li, X. Y., Gamble, G., & Amster, I. J. (2003). Harvesting the Fields of Inorganic and Organometallic Photochemistry for New Photoinitiators. In K. D. Belfield, & J. V. Crivello (Eds.), Progress in Coordination and Bioinorganic Chemistry (Vol. 847, pp. 332-350). Washington, D.C.: American Chemical Society. doi:10.1021/bk-2003-0847

Ding, W., Johnson, K. A., Kutal, C., & Amster, I. J. (2003). Time-resolved measurements of intermediates in photoinduced reactions with millisecond resolution using a nanoelectrospray emitter as a photochemical cell.. ABSTRACTS OF PAPERS OF THE AMERICAN CHEMICAL SOCIETY, 225, U132. Retrieved from http://gateway.webofknowledge.com/gateway/Gateway.cgi?GWVersion=2&SrcApp=PARTNER_APP&SrcAuth=LinksAMR&KeyUT=WOS:000187917800567&DestLinkType=FullRecord&DestApp=ALL_WOS&UsrCustomerID=bccb20a1f2d949998a887c45eb30dd98

Kutal, C., Yamaguchi, Y., Ding, W., Sanderson, C. T., Li, X. Y., Gamble, G., & Amster, I. J. (2003). Harvesting the fields of inorganic and organometallic photochemistry for new photoinitiators. PHOTOINITIATED POLYMERIZATION, 847, 332-350. Retrieved from http://gateway.webofknowledge.com/gateway/Gateway.cgi?GWVersion=2&SrcApp=PARTNER_APP&SrcAuth=LinksAMR&KeyUT=WOS:000183317100029&DestLinkType=FullRecord&DestApp=ALL_WOS&UsrCustomerID=bccb20a1f2d949998a887c45eb30dd98

Kutal, C., Ding, W., Sanderson, C. T., Conover, R., Johnson, M. K., & Amster, I. J. (2003). Characterization of the low-energy electronic excited states of benzoyl-substituted ferrocenes.. ABSTRACTS OF PAPERS OF THE AMERICAN CHEMICAL SOCIETY, 225, U138. Retrieved from http://gateway.webofknowledge.com/gateway/Gateway.cgi?GWVersion=2&SrcApp=PARTNER_APP&SrcAuth=LinksAMR&KeyUT=WOS:000187918000721&DestLinkType=FullRecord&DestApp=ALL_WOS&UsrCustomerID=bccb20a1f2d949998a887c45eb30dd98

Sanderson, C. T., Kutal, C., Li, X. Y., Amster, I. J., & Mize, T. (2002). Organometallic and inorganic photoinitiators for the anionic polymerization of (methyl)acrylate.. ABSTRACTS OF PAPERS OF THE AMERICAN CHEMICAL SOCIETY, 224, U748. Retrieved from http://gateway.webofknowledge.com/gateway/Gateway.cgi?GWVersion=2&SrcApp=PARTNER_APP&SrcAuth=LinksAMR&KeyUT=WOS:000177422203923&DestLinkType=FullRecord&DestApp=ALL_WOS&UsrCustomerID=bccb20a1f2d949998a887c45eb30dd98

Turner, C. A., Ding, W., Amster, I. J., & Kutal, C. (2002). Ground- and excited-state reactivities of cationic sandwich and half-sandwich complexes of iron(II). COORDINATION CHEMISTRY REVIEWS, 229(1-2), 9-16. doi:10.1016/S0010-8545(02)00109-1

Sanderson, C. T., Palmer, B. J., Morgan, A., Murphy, M., Dluhy, R. A., Mize, T., . . . Kutal, C. (2002). Classical metallocenes as photoinitiators for the anionic polymerization of an alkyl 2-cyanoacrylate. MACROMOLECULES, 35(26), 9648-9652. doi:10.1021/ma0212238

Ding, W., Johnson, K. A., Amster, I. J., & Kutal, C. (2001). Identification of photogenerated intermediates by electrospray ionization mass spectrometry. INORGANIC CHEMISTRY, 40(27), 6865-+. doi:10.1021/ic010681e

Kutal, C., Yamaguchi, Y., Ding, W., Li, X. Y., Sanderson, C. T., & Amster, I. J. (2001). Harvesting the fields of inorganic and organometallic photochemistry for new photoinitiators.. ABSTRACTS OF PAPERS OF THE AMERICAN CHEMICAL SOCIETY, 222, U289. Retrieved from http://gateway.webofknowledge.com/gateway/Gateway.cgi?GWVersion=2&SrcApp=PARTNER_APP&SrcAuth=LinksAMR&KeyUT=WOS:000170690101657&DestLinkType=FullRecord&DestApp=ALL_WOS&UsrCustomerID=bccb20a1f2d949998a887c45eb30dd98

Kutal, C., Amster, I. J., Ding, W., & Johnson, K. (2000). Photogeneration and reactivity of a cationic initiator in an electrospray ionization mass spectrometer.. ABSTRACTS OF PAPERS OF THE AMERICAN CHEMICAL SOCIETY, 220, U534. Retrieved from http://gateway.webofknowledge.com/gateway/Gateway.cgi?GWVersion=2&SrcApp=PARTNER_APP&SrcAuth=LinksAMR&KeyUT=WOS:000166091202905&DestLinkType=FullRecord&DestApp=ALL_WOS&UsrCustomerID=bccb20a1f2d949998a887c45eb30dd98

Kutal, C., Amster, I. J., Lin, L., Palmer, B. J., & Turner, C. A. (1997). Generation and Reactivity of Highly Coordinatively-Unsaturated Metal Complexes in the Gas Phase. In G. Ondrejovic, & A. Sirota (Eds.), Progress in coordination and organometallic chemistry (pp. 137-142). Bratislava: Slovak Technical University Press.

Kutal, C., Amster, I. J., Gwathney, W. J., Lin, L., Palmer, B. J., & Turner, C. A. (1996). Generation and reactivity of a highly coordinatively-unsaturated transition metal complex.. ABSTRACTS OF PAPERS OF THE AMERICAN CHEMICAL SOCIETY, 211, 365-INOR. Retrieved from http://gateway.webofknowledge.com/gateway/Gateway.cgi?GWVersion=2&SrcApp=PARTNER_APP&SrcAuth=LinksAMR&KeyUT=WOS:A1996UA48203384&DestLinkType=FullRecord&DestApp=ALL_WOS&UsrCustomerID=bccb20a1f2d949998a887c45eb30dd98

GWATHNEY, W. J., LIN, L., TURNER, C., AMSTER, I. J., & KUTAL, C. (1992). PHOTOGENERATION AND THERMAL CHEMISTRY OF HIGHLY COORDINATIVELY-UNSATURATED METAL CENTERS. ABSTRACTS OF PAPERS OF THE AMERICAN CHEMICAL SOCIETY, 204, 489-INOR. Retrieved from http://gateway.webofknowledge.com/gateway/Gateway.cgi?GWVersion=2&SrcApp=PARTNER_APP&SrcAuth=LinksAMR&KeyUT=WOS:A1992JJ31202340&DestLinkType=FullRecord&DestApp=ALL_WOS&UsrCustomerID=bccb20a1f2d949998a887c45eb30dd98

GWATHNEY, W. J., LI, L., KUTAL, C., & AMSTER, I. J. (1992). MULTIPLE REACTION PATHWAYS OF FE(ETA-5-C5H5)+ IN THE GAS-PHASE. ORGANIC MASS SPECTROMETRY, 27(7), 840-842. doi:10.1002/oms.1210270716

GWATHNEY, W. J., AMSTER, I. J., & KUTAL, C. (1990). PHOTOGENERATION AND THERMAL CHEMISTRY OF FE(C5H5)+ IN THE GAS-PHASE. ABSTRACTS OF PAPERS OF THE AMERICAN CHEMICAL SOCIETY, 200, 124-INOR. Retrieved from http://gateway.webofknowledge.com/gateway/Gateway.cgi?GWVersion=2&SrcApp=PARTNER_APP&SrcAuth=LinksAMR&KeyUT=WOS:A1990DU04202015&DestLinkType=FullRecord&DestApp=ALL_WOS&UsrCustomerID=bccb20a1f2d949998a887c45eb30dd98

KUTAL, C. R., HAUTALA, R. R., & KING, R. B. (1980). DEVELOPMENT OF HETEROGENEOUS PHOTOSENSITIZERS AND CATALYSTS FOR A PHOTOCHEMICAL ENERGY-STORAGE SYSTEM. ABSTRACTS OF PAPERS OF THE AMERICAN CHEMICAL SOCIETY, 179(MAR), 37-INOR. Retrieved from http://gateway.webofknowledge.com/gateway/Gateway.cgi?GWVersion=2&SrcApp=PARTNER_APP&SrcAuth=LinksAMR&KeyUT=WOS:A1980JJ81300946&DestLinkType=FullRecord&DestApp=ALL_WOS&UsrCustomerID=bccb20a1f2d949998a887c45eb30dd98

Yamaguchi, Y., Ding, W., Sanderson, C. T., Borden, M. L., Morgan, M. J., & Kutal, C. (2007). Electronic structure, spectroscopy, and photochemistry of group 8 metallocenes. COORDINATION CHEMISTRY REVIEWS, 251(3-4), 515-524. doi:10.1016/j.ccr.2006.02.028